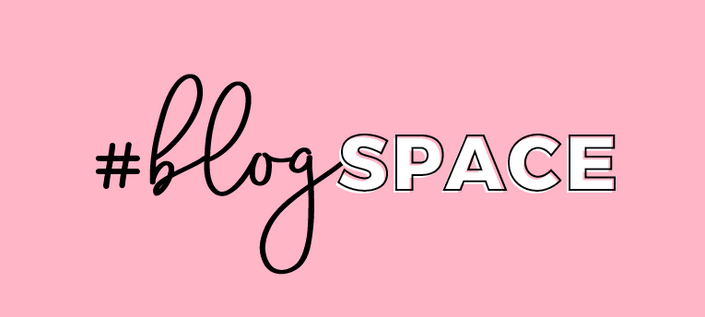 #blogSPACE Online
A workshop for bloggers with a 9 to 5 on how to diversify your income without burning out. The Online edition.
Enroll in Course
You're trying to build a successful blog, but your time, money, and energy are already stretched too thin—you have a day job, a family to take care of, and the list goes on. You swear if you had more hours in the day your blog would be poppin' and you'd be collecting coins consistently.


IT'S NOT ABOUT HAVING MORE TIME. IT'S ABOUT HAVING SYSTEMS & PROCESSES THAT ALLOW YOU TO:
Finally have time to blog consistently without feeling burned out with your 9 to 5
Execute and organize your ideas into valuable blog content that your audience actually wants to see from you
Increase your engagement and visibility so you attract paid brand opportunities
Successfully monetize your blog so you boost your income consistently
IS THE IN-PERSON TRAINING THAT WILL SHOW YOU THE CLEAR, STEP-BY-STEP STRATEGY FOR PRIORITIZING, ORGANIZING, AND MONETIZING YOUR BLOG FOR MORE INFLUENCE AND INCOME EVEN WITH A 9 TO 5.
As someone who juggled a 9 to 5, family life, blogging, and everything in between before I became a full-time blogger, I know how hard it is to find the time to build a successful blog.

A lot of people tell you what you need to create a profitable blog, but no one really tells you how to do it.
I CREATED #BLOGSPACE TO EQUIP YOU WITH THE TOOLS AND TECHNIQUES NECESSARY TO CREATE A BLOG THAT WILL CREATE MULTIPLE STREAMS OF INCOME.
#BLOGSPACE ONLINE IS A 2-HOUR DIGITAL WORKSHOP BROKEN DOWN IN TWO PARTS:
IN #BLOGSPACE101, WE'LL FOCUS ON CREATING A CONTENT SCHEDULE AND PROCESS THAT WORKS FOR YOU–EVEN WITH A 9 TO 5–AND BUILDS YOUR BLOG ON A DAILY BASIS. DURING THIS IN-PERSON SESSION, WE'LL:
Create a schedule that will help you produce content consistently, even if you have a day job or hectic schedule
Identify the strategy that will position you to post consistently within the next 30 days
Break down the essential editorial process that will help you plan, produce, and publish content consistently
Discover the tools you need to organize all of your content, ideas, and more to create a stress-free and streamlined process
IN #BLOGSPACE102, WE'LL FOCUS ON MONETIZATION. DURING THIS IN-PERSON SESSION, YOU'LL LEARN THE PROCESS FOR 5 TYPES OF OFFERINGS SO YOU CAN SUCCESSFULLY MONETIZE YOUR BLOG CONSISTENTLY:
SERVICES:
The strategy to use to introduce your offering to readers to turn them into paying clients
How to position yourself as a freelancer from the blog content you create
PRODUCTS:
How to create products that are worth your time and that your readers actually want to buy
The best platforms to offer your physical products on
AFFILIATES:
How to attract paid brand opportunities even if you're a 9to5er
The secret to balancing sponsored content deadlines and your day job schedule
CURRICULUM:
The 3 things you need to establish yourself as a trusted expert and when to introduce courses, masterclasses, webinars, etc. to your readers
EVENTS:
How to successfully host an in person event for a brand or company
Promoting your own event to increase visibility and income
BY THE END OF THIS WORKSHOP, YOU'LL LEAVE WITH A PERSONALIZED EDITORIAL PROCESS & A CLEAR IDEA OF HOW YOUR BLOG CAN BE MONETIZED.
IF YOU'RE OK WITH FEELING LIKE YOU'LL NEVER HAVE ENOUGH TIME, MONEY, OR ENERGY TO CREATE A
SUCCESSFUL AND PROFITABLE BLOG, #BLOGSPACE ISN'T FOR YOU.
#BLOGSPACE ONLINE IS ON SUNDAY, SEPTEMBER 4 FROM 11A-1P EST.
---
PLUS, YOU'LL RECEIVE A #BLOGSPACE WORKBOOK TO TAKE NOTES AND USE AS A REFERENCE—AS OFTEN AS YOU NEED TO—WHILE YOU BUILD THE BLOG YOU'VE ALWAYS WANTED.
#BLOGSPACE IS FOR YOU IF:
You're ready to learn how to blog on a regular basis without the burnout from your 9 to 5
You need systems and processes in place to ensure the ideas you have come to life through your content
You want to consistently build your following and visibility so you can attract more paid brand opportunities
You're ready to monetize your blog successfully so you can increase your income and gain more financial freedom
SIGN UP FOR #BLOGSPACE NOW!
DON'T LET YOUR 9 TO 5 STOP YOU FROM CREATING THE BLOG YOU'VE ALWAYS WANTED.
Your Instructor
Mattie James is the influencer & entrepreneur behind Mattieologie.com. She started blogging in 2010 and would go on to work with major brands like H&M, Macy's, American Express, Cotton, ASOS, XFINITY & more via social media, content creation, in person events & brand campaigns.
In 2015, Mattie transitioned to blogging full time turning the Mattieologie brand into a lifestyle blog, 2 podcasts, a YouTube channel (represented by MODE Media), online courses & masterclasses and a shopping newsletter (MIMOSA).
She now teaches other content creators and wantrepreneurs how to create consistently, build their audience, pitch brands and transition out of their 9 to 5. You can learn more about all of Mattie's courses and masterclasses here.
Class Curriculum
#blogSPACE Online
Available in days
days after you enroll
Frequently Asked Questions
When is #blogSPACE Online?
#blogSPACE Online is a digital workshop happening on Thursday, September 1 from 7p-9p.
How much is #blogSPACE Online?
#blogSPACE Online is a one time payment of $197 or 3 payments of $97. Both one time payment and payment plan students have access to the live stream plus lifetime access to the replay.
What all comes with #blogSPACE Online?
#blogSPACE includes a digital workbook (PDF), the live three module workshop & lifetime access to the replay so you can review whenever you like.
What's the refund policy for #blogSPACE?
Unless the workshop is cancelled by Mattie, at this time, all sales are final. No exceptions.
I attend a #blogSPACE workshop in person or have bought tickets for an upcoming date. Do I have to pay for #blogSPACE Online?
All #blogSPACE students who attended an in person workshop will have free access to #blogSPACE Online. A special coupon code will be sent to all students.